DIY Painted Side Table in Living Room
Today I am going to share how I updated an old wood side table to match the corner cabinet in our living room. The DIY painted side table was a quick project that really updated to look and functionality of the living room.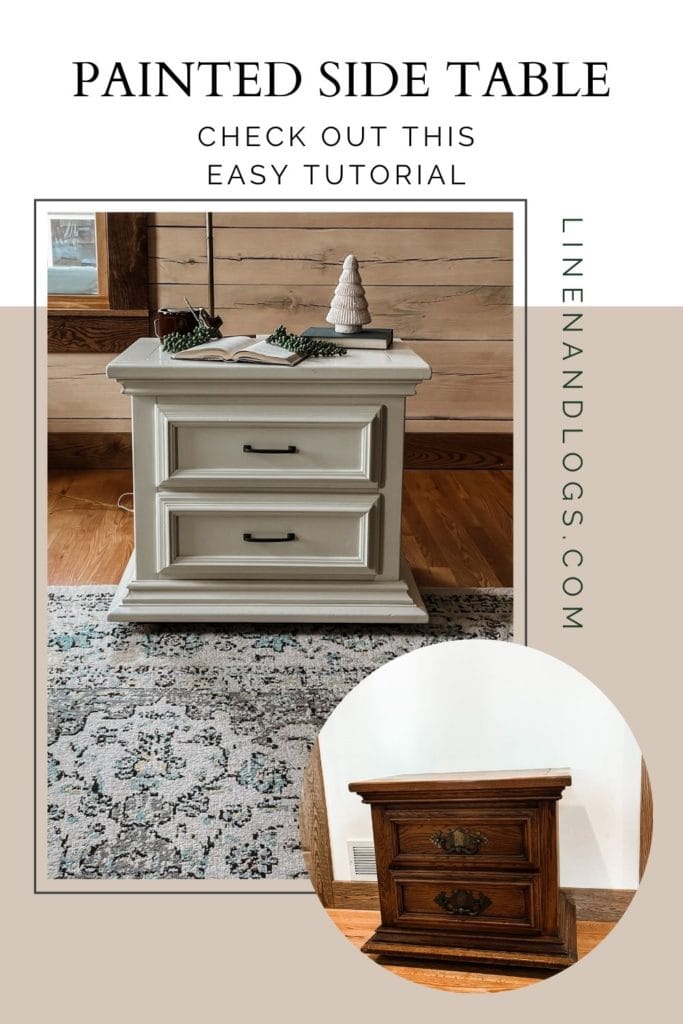 This post contains affiliate links, which means I may get a commission at no extra cost to you. See my full disclaimer here.
I always felt that our living room side tables have looked very dark next to our dark furniture. If you didn't know, we live in a log home that we built ourselves. Someday I will have to share more on this! But having wood furniture in our wood house was getting to be a little much.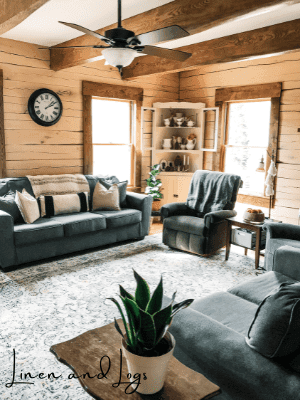 I found this particular side table at our local St. Vincent's Thrift Store for $5! I actually bought two of these side tables that are similar in size and style for $5 a piece. So if I find something else to put in the living room, I could either sell as a pair or use them as end tables in the bedroom.
These side tables actually sat in the cold mudroom for a few months while I tried to decide what to do them. I would have loved to try to strip them down to bare wood first (outside!), but I didn't have the patience for that, and it has been about zero degrees outside for the last few weeks. And that was not happening for this time of year! brrrr!
What Type of Paint?
I choose to use Fusion Mineral Paint in the color Champlain. First, I love the vintage-y color vibe and the fact that it is a great neutral without being a straight white. Second, it just totally brightens up the space with the wood walls and dark wood beams (which I love – but sometimes there is just too much wood grain!)
Third, I wanted it to match the corner cabinet that I painted for the living room. You can see more of that cabinet in this post HERE.
And fourth – I love the fact that you really don't have to do any prep with FMP! And while I did put a top coat (because hello! coffee cups!) I didn't do any sanding or primer. I just cleaned and painted. We will see how it holds up because of this.
Tools You May Need
Paint
Soap and Water
Drop Cloth (or old sheet)
Polycrylic Top Coat
Using Bedside Table in Living Room
I know this is a bedside/ nightstand/ endtable, etc. for the bedroom. But here is the thing, it doesn't bother me! I wanted something with drawers that I can hide things away all the things from the very active almost one-year-old.
I do want to note – this has kind of failed on me, because he can open the drawers. But someday! I will be able to hide things in there!
So use what you love in your own home! Whether that is a nightstand in your living room, or a chandelier in your bathroom (I have this too!) You do You!
Painting Side Table
I started by cleaning the side table with a solution of water + vinegar + dish soap and scrubbed the dirt and grime off. It cleaned up fine and I let it dry.
I used my two-inch short handle paint brush and started painting the table. I used long brush strokes and went with the grain of the wood. Just to note – the first coat always looks the worst! Like the thought 'What did I just do!?' kind of thought. But trust me, it gets better!
I did three coats of the FMP Paint – three light coats and making sure there were no drips.
Finishing Side Table
This DIY painted side table is going to be used as a side table in the living room – and so I wanted to make sure there was a top coat to protect against coffee, babies, etc.
I did wait about 20-24 hours before putting a polyacrylic on the side table to allow the paint to cure. And because this was a heavy table, I choose to not bring it down the basement – but I also have a busy baby. So this was my set up to keep him away from the wet paint.
Using the same two inch angled paintbrush, I put one coat of Minwax Polyacrylic on the entire table and drawers. After drying, I put a second coat on the top for extra protection.
I finished up the look by replacing the handles with these ones.
Overall, I am very happy with how the DIY painted side table turned out! Now I just need to figure out a way to keep the baby out of the drawers!
Shop the Post
You May Also Like
PIN FOR LATER
DIY Painted Side Table