Laundry Room Decor Ideas – Part 2
The never-ending saga of the Laundry Room Refresh! This room took much longer to do a refresh than I anticipated. But I think I say that every time. In the Laundry Room Refresh Part 1 blog post, I shared painting the laundry room cabinets, stenciling the wall, and painting the handles and other odds and ends. In this second part, I will be sharing laundry room decor ideas including painting decor, making the shelf, and a few goodies that I have been waiting to use in the Laundry Room!
I may get a commission for qualifying purchases. You can see my full disclaimer for more details.
Painting the Step Stool
I found this step stool on Facebook Marketplace many years ago. And honestly, I don't even remember how much I paid, it could have been around $10. It has a ripped seat cover, and paint splatters all over, but has been perfect for using as a step stool. After much debate, I decided to paint the stool in Fusion Mineral Paint using Black Coal + a drop of Casement. The mixing of the two colors lightened the black to a dark grey.
Clean stool with Liquid TSP + Water
Allowing time to dry
Paint first coat of paint and allow to dry
Paint a second coat of paint
Allow the paint to fully dry overnight
Apply a thin coat of Polycrylic to the chair and allow to dry
Apply a second coat of Polycrylic
Allow the sealant time to dry and cure for a couple of days before using
After painting the step stool, the transformation was amazing! Some day I may recover the seat and back portions, but for now, this was a very budget-friendly option to give it an updated look.
Do you want to get the same look?
You can click on the picture if you see something you are interested in.

Laundry Room Shelf and Hooks
The laundry room shelves were one piece of the laundry room refresh that I had a true idea of what was going to do. I knew I wanted a wooden peg hook rack with a shelf on top. Using supplies on hand for the shelving unit, and a quick run to our local Walmart to grab a wooden peg hook and I was ready to go! Supplies used XX inch long piece of wood, two brackets, peg hooks, and screws for hanging on the wall.
Sand wood with sandpaper grit 80 and 120
Prime wood, peg hooks, and brackets – allow time to dry
Paint with desired paint – I used Fusion Mineral Paint in the color Casement
Paint a second coat and allow to dry
If desired, you can put a thin coat of sealant like Polycrylic. I choose not to for this particular project.
After the paint dried, the brackets were attached to the wood, making sure to center on the board. I also ensured that the peg hooks would fit between the brackets and looking as it was made to fit there.
Are you looking for something similar?
Here are a few options that I found for you!

Laundry Room Countertop
The countertop… I should have left well enough alone, and not touched the countertop. But, I didn't love how the yellowy countertop blended into the wall. So I decided to paint it! If it didn't turn out, then it wasn't a huge deal and we could replace it in the future (to be honest, a long time in the future). So I will review what steps I took to paint the countertop, but I will also share what I would have done differently.
Countertop Painting Process
Remove any caulking on side of countertop and around the sink
Lightly scuff countertop with 120 grit sandpaper to allow the paint to adhere properly
Clean with a mixture of liquid TSP and warm water
Tape off the wall and around the sink
Prime the countertop with primer (I used Kilz2 Primer) – 2 coats with a paintbrush
2 coats of paint (Fusion Mineral Paint – Casement) with a foam roller
The third coat of paint was applied with a paintbrush
2 coats of sealant were applied with a paintbrush
Removed tape
A bead of white caulk was done at the wall and around the sink
What I would have done differently
Alright, issues that came up. First, I should have made sure I removed all of the caulk at the beginning. Paint does not adhere to the caulk and this caused an issue. Secondly, I would not have taped around the sink and at the wall. I would have used a small paintbrush in these areas and a freehanded painting. This is just my preference.
When I removed the painter's tape, I peeled up the paint and primer around the entire sink. And when I tried to repaint these areas, the paint did not adhere because of the caulk that was not removed. I was able to remedy this by putting a bead of white caulk to cover it up, but not an ideal solution in my book.
And now, after having a plain, white countertop in the laundry room this DIY was not the greatest idea. There are water spots from the laundry sink and it stains easily.
Like I said, in hindsight, I should have left the countertop alone, and we could have replaced it at some point for a color that better suited the laundry room.
Laundry Room Decor Ideas
Now comes the fun part of the laundry room refresh. Decorating the laundry room! Using only the decor that I had, I was able to dress up the laundry room. I have had a few pieces that I have been waiting to use in my laundry room! These included a vintage washboard and iron that I have held onto for years. I added a mirror, which helps reflect light in the otherwise darker space, and plants. I also like to mix faux and real plants to give different varieties. After adding a few more space fillers like candlesticks and candles, I found some vintage hangers that I added to the hooks. And because the watering can never seem to have a home, it ended up on the hooks also! And is also acts as functional decor.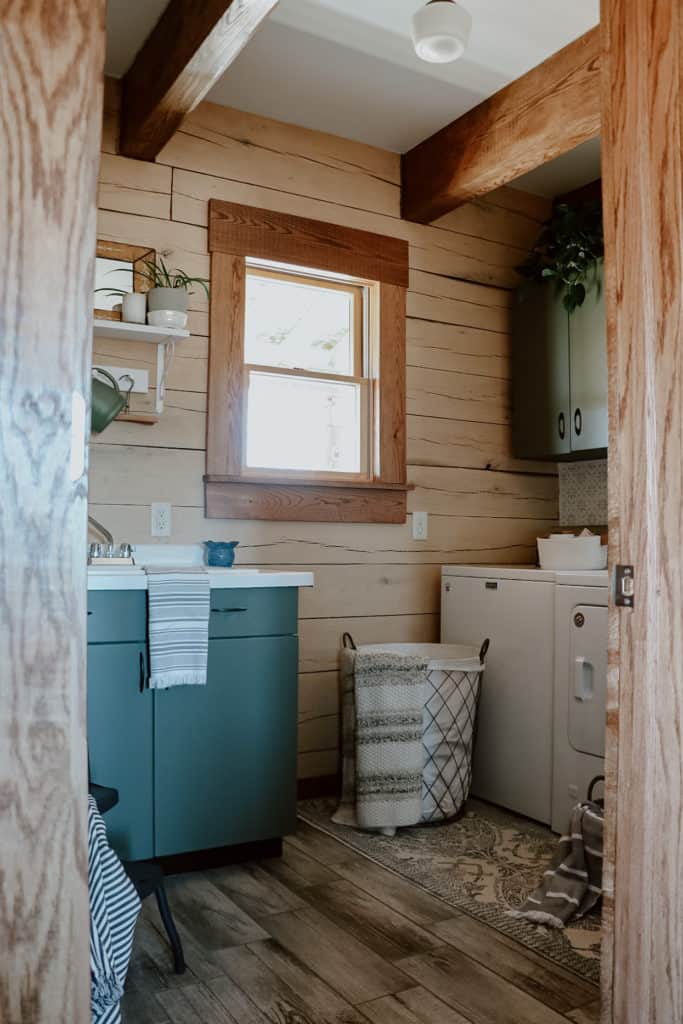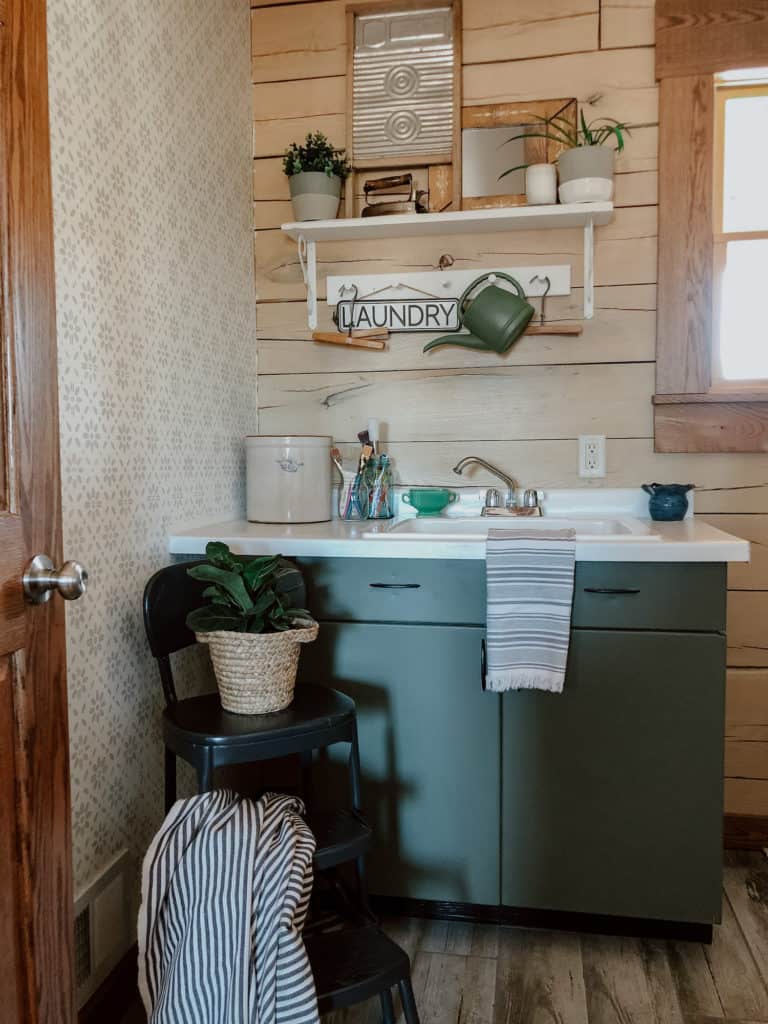 SHOP THE POST