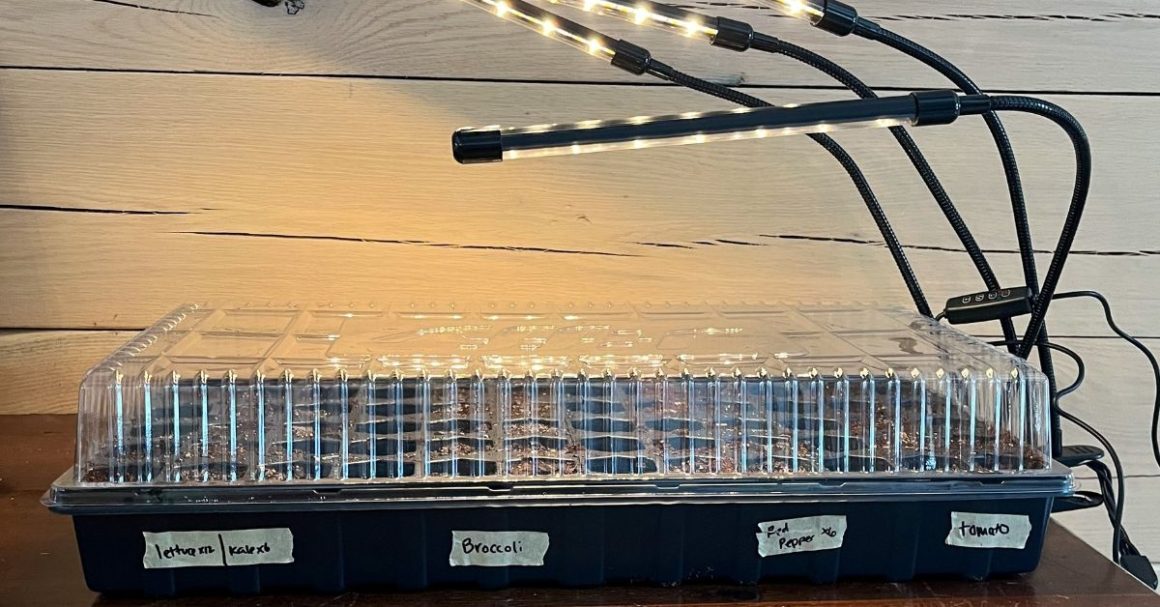 Preparing for First Vegetable Garden
We are preparing for our first vegetable-raised, container bed garden this year. 
Well, technically I had a very small, raised bed garden a few years ago in Rubbermaid bins. But it didn't work out so well, so I am looking forward to preparing for our first vegetable garden this year.
So, this year I am calling this our first vegetable garden. I have been learning all the things about gardening.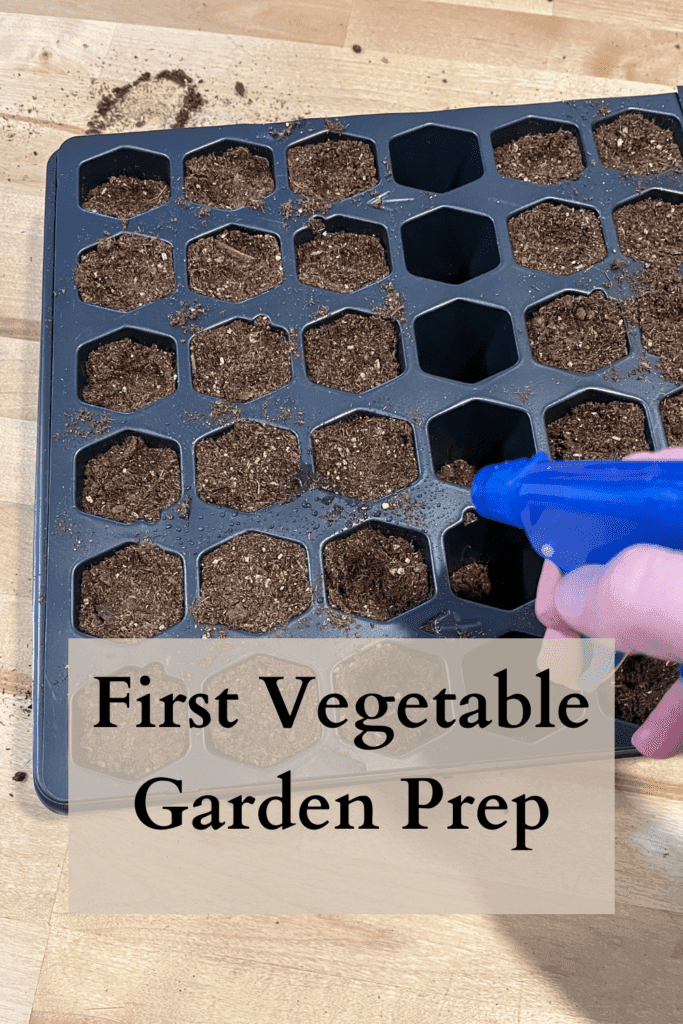 While I am learning and soaking in all the gardening information, the snow is still coming down here in Upper Michigan in March. I sort of feel as though it is all a far-away dream right now! But I do know that I will have to start planting the seeds soon.
This post contains affiliate links, which means I may get a commission at no extra cost to you. See my full disclaimer here.
What Seeds Did I Buy for the First Garden?
For our first vegetable garden, I wanted to start small. And by small, I mean less than 10 types of vegetables. (Ha – I keep thinking of more that I want to add!)
I started by thinking of what I wanted to do with the vegetables. I want to try making a tomato sauce this year. After doing some research – realized that Roma tomatoes are great for making sauces.
Cucumbers are a must for the summer around here! And my husband wants to try to make pickles, so I choose a variety called Ashely Cucumbers that Is good for eating and for making into pickles.
Another staple in this house is the Black Beauty Zucchini. We love all things zucchini, and it is so easy to freeze for use later! And of course, Spaghetti Squash! Spaghetti Squash is such an easy vegetable to add to anything with noodles, and after baking, it will also freeze so well. Now here is to hope we have enough room in the garden for both!
A few other seeds that I purchased (hoping we have room for all) are Big Red Bell Peppers, Blue Curled Scotch Kale, Calabrese Broccoli, and Scarlet Nantes Carrot.
Last-minute I also picked up a few seeds from a local store – Green beans. There is something absolutely delicious about fresh green beans from the garden! And I grabbed some lettuce seeds. With all the podcasts and books I have been reading, lettuce sounds extremely easy to do. So might as well try!
Now like I said before, I really hope I have enough space in our garden for most of these seeds! I may try to do some of them in smaller containers, but we will see. I also don't want to overextend myself this summer and want to enjoy and learn by doing this garden.
What Supplies Do I Need for Seed Starting?
Knowing what supplies I need for the actual seed starting is a little bit overwhelming, not going to lie. There is just so much to get started!
The first thing I purchased was a seed starting tray and seed starting soil from a local hardware store.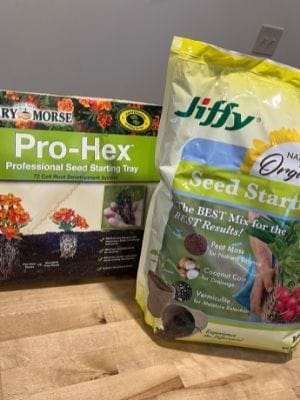 I did purchase a led grow light for the seeds.  Because we live in Northern MI and the sun is not out every day, I want to make sure that my seeds have a half of a starting chance!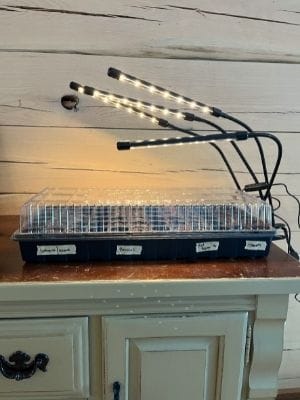 I have not purchased a soil thermometer yet. I am going to just try and wing this part, or just try and use my kitchen thermometer. Heating grow mats were also recommended, but I decided to try to go without this year to keep expenses down.
What Do I Need to Start the Garden?
I have not gotten to this step yet, of actually starting the garden. Mainly because we currently have about a 10-foot snowplow bank where the garden is going to be.
The plan is to start with a few raised beds made out of pre-made wood containers. I will fill with organic matter like tree branches and leaves and top off with topsoil and compost. 
I will have to purchase compost this year because I don't have any of my own. Next year I will have my own compost to add to the garden.
I will share more about composting once I get started, but this is the Composting Bin I purchased to get started.
What Resources Am I Using for A Vegetable Garden?
Sometimes I can be an over researcher. But because this is usually related to a new topic I am interested in, I like to learn!
So, I first started by searching Instagram Accounts related to gardening. I then purchased a book – Vegetable Gardening for Beginners, which I have found very helpful! The author, Jill Sheely also has a podcast called The Beginners Garden. I have been listening to the episodes when I have time.
Because I am a podcast listener, I also have been listening to Pioneering Today with Melissa Norris. I have been just picking the gardening episodes to listen to and have found them very beneficial.
When Do I Start My Vegetable Garden in Michigan?
After a quick google search, I found out that I am located in gardening Zone 5b.  With my average last frost date near the end of May.
This week I have started my indoor seeds. This is one area that I am very happy I did some research on because I would have started all of my seeds indoors, but after listening to podcasts and reading the Vegetable Gardening for Beginners book, I thankfully did not go that route!
Starting Our First Vegetable Garden
I just want to say thank you for being here as I learn a new hobby, skill, life lesson, or whatever this gardening thing is called! I know this may be a little bit different than motorhomes, DIY, and painting, but as we are developing our home this is just part of the journey!
So, I want to know, do you grow a vegetable garden? And what are some of your best tips? Because I welcome all your tips and tricks as we get started on ours!
Sources for Starting Garden