This post contains affiliate links. I may get a commission if you buy through my links at no extra cost to you. You can see my full disclaimer for more details.
Mid-April and still have your winter wreath out? No big deal! Same here! So I decided on this blustery day in April, to take the winter wreath from the front door and make a DIY Spring Wreath!
So here is the wreath that I was started with. Perfect for Christmas and Winter but not so much for the Spring and Early Summer!
Supplies
Okay, quick list of supplies to make a Grapevine Spring Wreath!
How to make a Spring Wreath
Start with a empty grapevine wreath
Start by adding greenery. Here is the greenery that was used in this wreath – faux eucalyptus stems.
Add florals. Start by adding a few to help balance the wreath, and add a focal flower – which is usually the largest.
When choosing the florals, choose one floral that is a little longer and will be the most used type of floral. Choose another floral to use to fill in the the 'empty' spots. And a third floral for the focal point.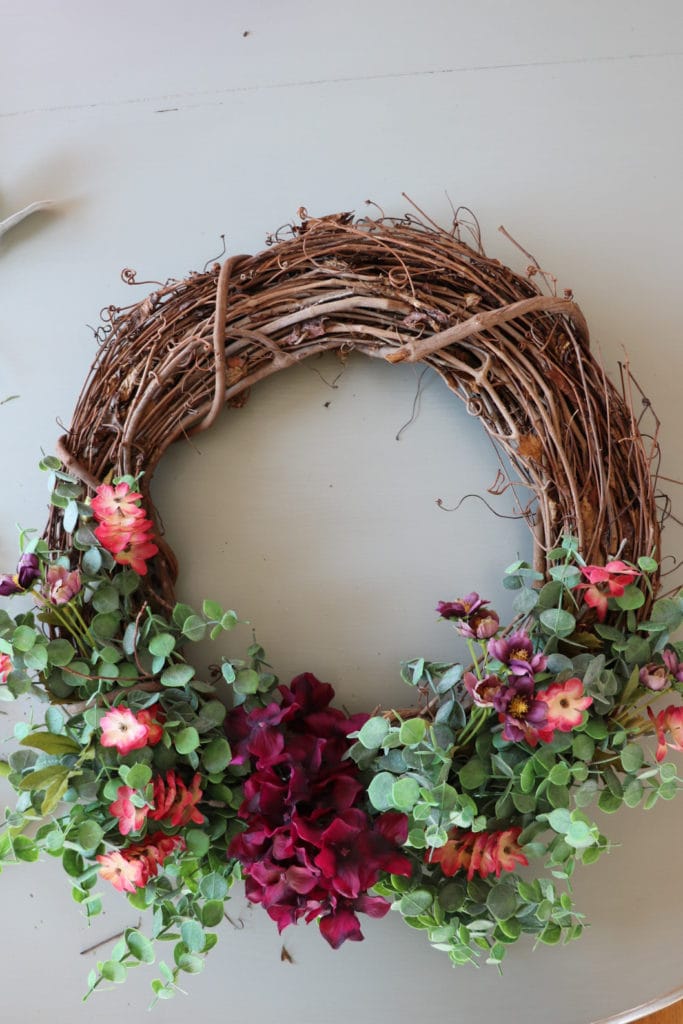 Continue adding florals on each side to keep the wreath balanced. The flowers do not need to be in the exact same spots, but around the same spots will give it a unified look. If you use a few different type of florals, it will give the wreath more of dimensional look. Using around 3-4 types of florals in the same color scheme will give the wreath a beat
Using a command hook, this wreath is hung on the front door ready for Spring to arrive!
If you are looking for some more Spring Decor – check out this post about Budget Friendly Pillow Covers! You can find that post HERE.
Also – Sign up for my weekly newsletter so you never miss a post!
Pin for Later!