Painting a RV Class C Motorhome
Camping is one of our favorite summertime traditions. It is something that we both did with our families when we were growing up, and have continued since being married.
Our camping experience has been in a tent, pop-up camper, a 1970's camper, 5th wheel camper, and most recently a hybrid camper with a slide-out. But last summer (Summer 2020) we decided to venture into the world of motorhomes.
But after the first camping trip, we realized we needed to give our new (to us!) RV a little TLC. We had a leaking roof that was causing damage in portions of the walls, and the nasty blue carpet had to go! And while we were at it, might as well add painting the walls and cabinets to the list.
I may get a commission for qualifying purchases. You can see my full disclaimer for more details.
Paint Colors for the RV
Choosing a paint color was way more stressful than I would care to admit! And standing in the local paint store staring at the paint swatches if a tad overwhelming! I am sure I am not the only one who feels this way.
But after much deliberation, I finally settled on Benjamin Moore Simply White in satin for the walls and ceiling. And Antique Pewter in semi-gloss for the cabinets.
Painting an RV
Once the roof of the RV was replaced, the section of the spongy ceiling and walls were fixed, and carpet, curtains, and couch removed, it was my turn to get in the motorhome to start painting.
I started by priming everything – walls, cabinets, and ceiling before starting to paint. I used Kilz 2 Primer, and it worked great to cover stains provide a fresh surface for painting!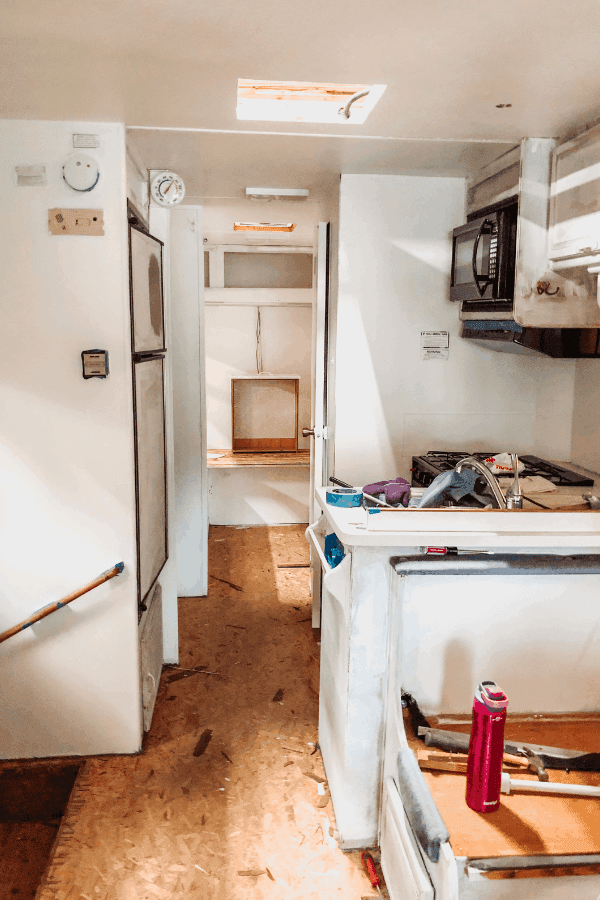 I used my favorite paintbrush, a wall roller with an extendable painting stick, and a 4-inch foam roller for the cabinets.
After priming, I painted two coats of the Simply White on the walls and ceiling. And I did three coats of paint of the Antique Pewter on the cabinets.
Next Steps – RV Reno
There is still so much work that needs to be done in the RV! To keep this project budget friendly, I am going to paint the cupboard handles instead of buying new. I am also going do a fun type of stencil for the kitchen backsplash and do some DIY artwork for the walls.
The flooring needs to be installed, and I would like to recover the couch before putting it back into the RV. And I will share our process and decisions in another blog post!
Follow Along as I share on my Linen and Logs Instagram!
SHOP THE POST

Related Articles
Add Character to Your Cabinets
Painting a Class C Motorhome