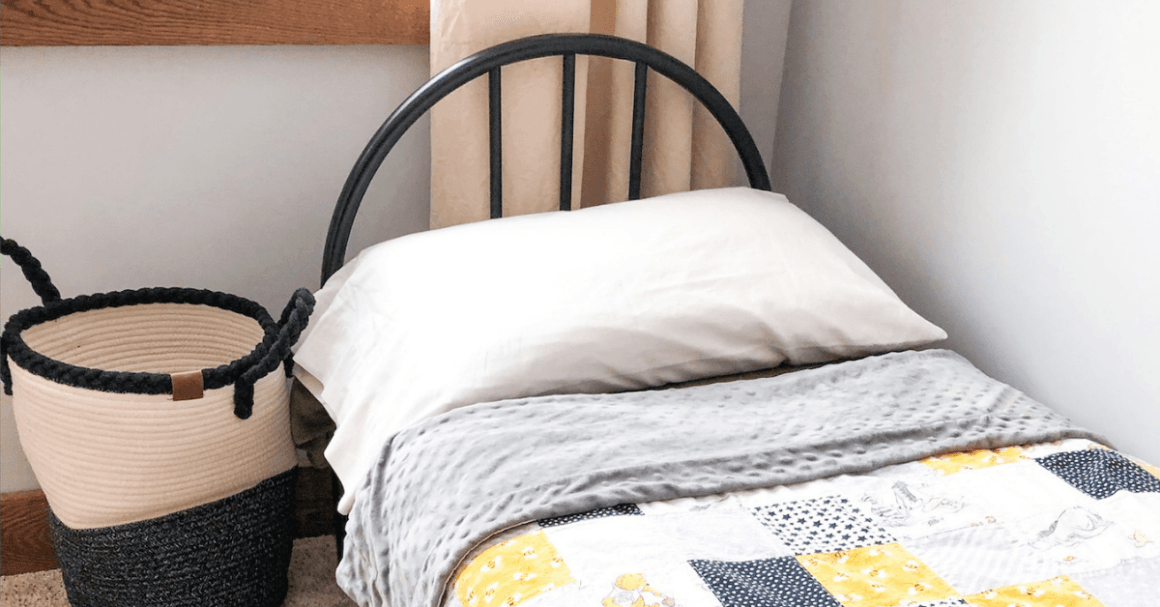 How to Paint a Metal Bed Frame
Learn how to paint a metal bed frame without using spray paint.
We received a toddler metal bed frame for free, and I wanted to update it by painting. But, because I am not usually a big fan of spraypaint, I needed to find a way to paint the bed frame without it chipping. So I decided to try using Fusion Mineral Paint instead.
Updated to Add (April 2022) – I have also used these same steps to paint a metal twin bed frame, with the same results! No chipping, easy painting, and excellent results!
This post contains affiliate links, which means I may get a commission at no extra cost to you. See my full disclaimer here.
How to Prep a Metal Bed Frame for Painting
I like to over-prep my area for painting – I tend to be a messy painter and want to be prepared for that! I placed an old tablecloth on the floor. You can also use an old sheet, plastic, cardboard, etc. to help keep the paint off the floor.
When I am painting with a brush, I like to pour my paint into a plastic container for easy holding, and less risk of accidentally dumping my entire can of paint or getting dirt into the paint. I usually try to keep and wash my plastic containers from lunch meat, sour cream, yogurt, salsa, chip dip, etc. You get the point. These containers are the perfect size to hold while painting if needed (and much lighter than a can of paint!)
I
Do you Need to Sand a Metal Bed Frame?
Short Answer – Yes. I would highly recommend lightly sanding the bed frame.
Mainly to just give the shiny surface a little bit of scuff to help the paint adhere better. But also to make sure there is no dirt, flakes of chipping paint, or anything else that may make it harder to paint.
So for this bed frame, I gave it a light sanding with sandpaper (grit 120). After sanding, I quickly wiped it down with an all-purpose cleaner and allowed it to dry.
I just want to note that the prepping part is just as important to the project as the painting itself. If the piece is not prepped properly, then the paint will not adhere and you will not be pleased with the results after a few months of normal use.
Painting a Metal Bed Frame
Now that the prep is done, we can finally start the fun part! Painting the bed frame!
A few tips: when painting, use long brush strokes! If you are painting anything with spindles, using a round brush is much easier than a flat brush. That being said, I have also used my favorite paintbrush with good results too!
The first painting coat is not usually pretty. It is very streaky and I always wonder why I even started this project! But then I remember that it is only the first coat, and the second coat will be much better!
When painting on a surface like metal, get the paint on the surface and don't overwork it. If you continue to brush the wet paint, you will just pull it off. So leave it be, make sure there are no drips (although you can sand these off if needed before the next coat of paint) and let it dry.
I promise the second coat of paint will look so much better!
Depending on your project (and color!), you may need 2-3 coats of paint. Do thin coats so the paint does not pool or drip and just keep painting!
Once you have the coverage you want, allow the FMP to dry completely. I have made the mistake of trying to finish too quickly and when putting on the topcoat, the paint can begin to chip off. Very important to give the last coat of paint 12-24 hours to dry!
Finishing the Metal Bed Frame
Once the paint on the metal bed frame was dried (and had time to cure for a little while) I did a thin coat of Minwax Polycrylic (Matte). I did two thin coats of Polycrylic (making sure there are no drips!).
I used a smaller craft brush for this step. Using a smaller brush allowed me to have better control over the amount of Polycrylic I put on the bed frame.
And now it is the moment of truth! The point when we may or may not regret moving our baby from the crib to a toddler bed! 😂
If you are looking for some information on how to paint, check out my post Painting Furniture for Beginners!
---
Links for Today's Post
---
You May Also Like
Painting Furniture for Beginners
Painting a Metal Bed Frame