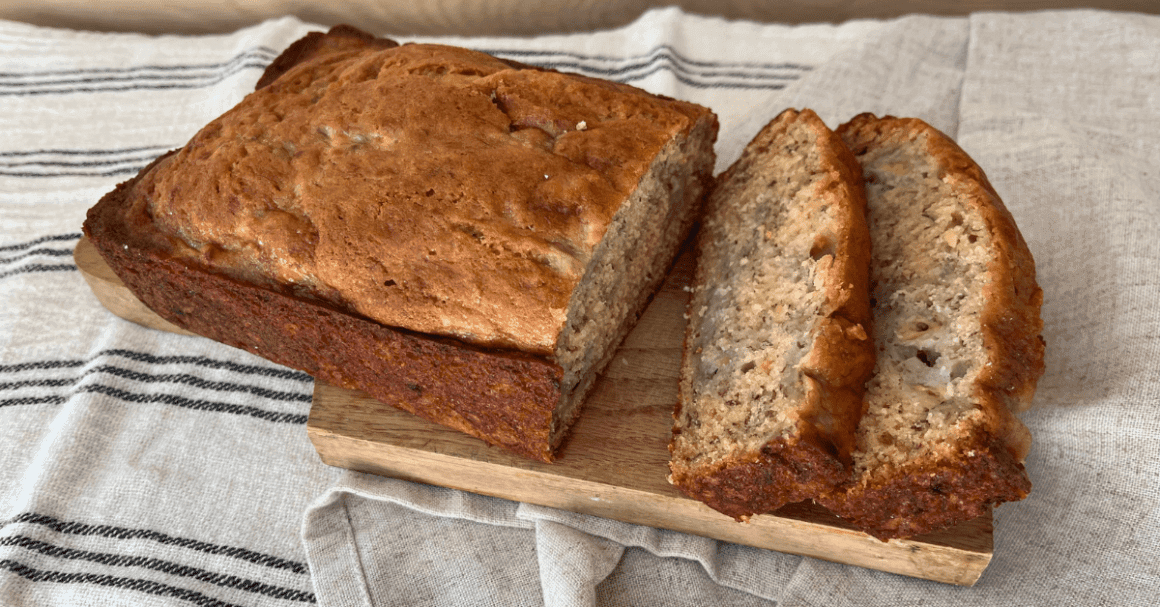 This easy banana bread recipe is perfect for breakfast, snacks, or any time of the day! When I make banana bread I always make two loaves because it is guaranteed that one loaf will be gone before the end of the day.
Today I am making banana bread for an easy breakfast option for our kiddos (especially for those mornings when mom may not have had the best sleep!) I like to pre-slice the banana bread (or even make muffins) and put it in the refrigerator or freezer to keep fresh.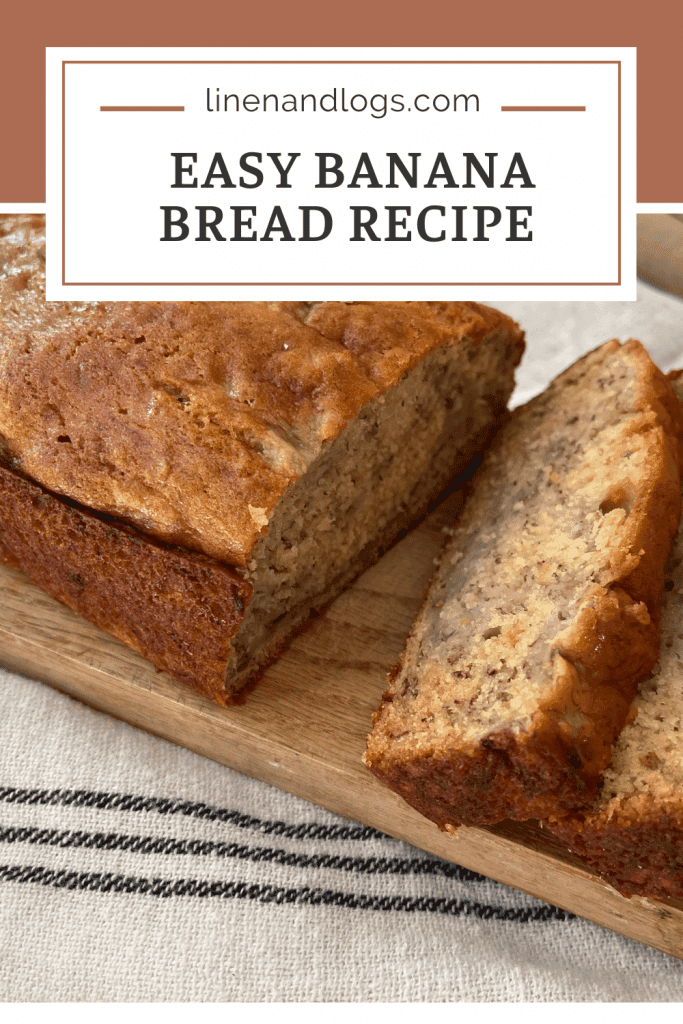 As an Amazon Associate, I earn from qualifying purchases. You can see my full disclaimer for more details. 
Why You Will Love This Recipe:
This is an easy recipe that anyone can whip up!
A delicious (and moist 🙈) banana bread
A great way to use up those bananas that got too ripe too fast (we all know this happens!)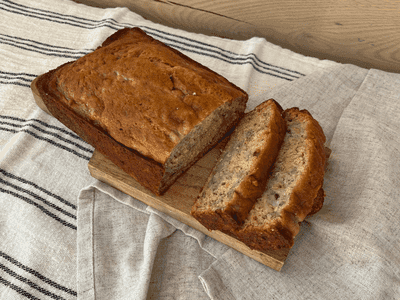 Tools You Will Need:
Mixing bowl or Kitchen Aid Mixer (I like to use my kitchen aid mixer)
Two bread pans or muffin tins
Spoon or Scoop
Measuring cups and spoons
How to Make the Best Banana Bread Ever!
Step One: Pull the bananas out of the freezer (if that is where you keep them 😂) and pull your butter out of the refrigerator to soften
Step Two: Gather the rest of your ingredients
Step Three: Mix together all of your wet ingredients
Step Four: Add your dry ingredients alternating with the buttermilk
Step Five: Pour or spoon into greased bread pans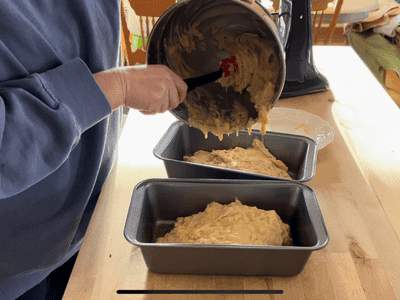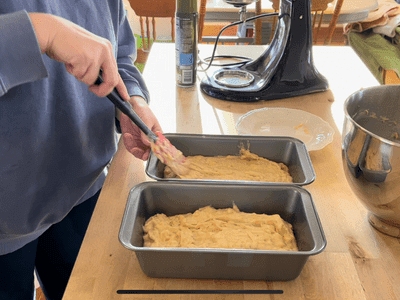 Step Six: Bake!
Step Seven: Allow to cool for at least 10 minutes before removing from the bread pan. This is a very important step! I have lost the bottoms of my banana bread a time or two because I was impatient.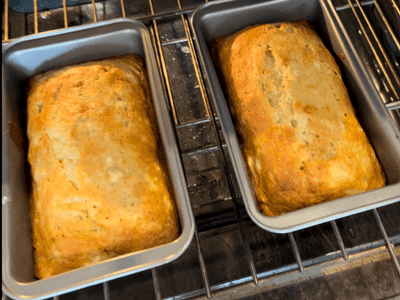 Step Eight: Slice and slather on some more butter and enjoy when it is still warm from the oven!
Can you Freeze a Banana Bread Loaf?
Yes, you can freeze banana bread! I like to pre-slice the bread and freeze it individually for an easy grab to add to the kid's lunch boxes or to warm up for a quick breakfast.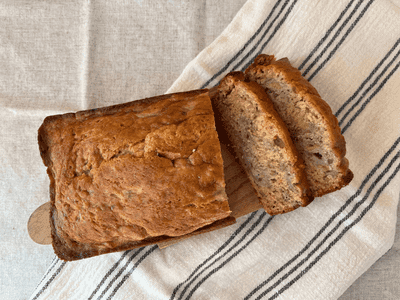 Can you use Green Bananas in Banana Bread?
I would recommend using a more ripe banana. Ideally with the brown spots so it is really easy to mash up before adding to the bread mixture.
What Type of Flour do you Use in Banana Bread?
I use all-purpose flour.
How do you know when Banana Bread is done?
I use a butter knife or toothpick and poke the middle of the bread to make sure it comes out clean. If there is stuff on the knife, I put it back in the oven for 5 more minutes until it comes out clean.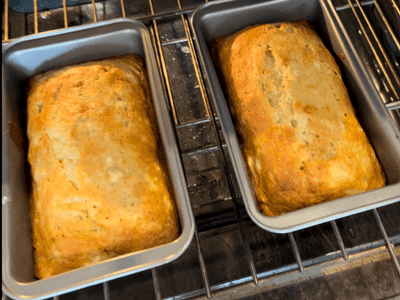 Banana Bread
Delicious Banana Bread for breakfast, snack time, or any time of the day!
Ingredients
2/3 cup or 11 Tbsp Butter
2/3 cup Sugar
1 cup Brown Sugar
1/2 tsp Vanilla
2 Eggs
2 1/2 cups Flour
1 tsp salt
1 tsp Baking Soda
1/2 tsp Baking Powder
2/3 cups Buttermilk
4 Overripe Bananas
Instructions
Cream together butter, sugar, brown sugar and vanilla
Add eggs and beat well
In another bowl - mix together dry ingredients
Add dry ingredients to creamed mixture alternating with buttermilk
Mix on low until moist
Mush up 4 bananas
Fold in bananas
Spoon into two greased bread pans
Bake 350ºF for 50-55 minutes
Notes
When adding the dry mixture, make sure to add a little dry and a little buttermilk alternating.
Less mixing of the banana bread (but making sure everything is mixed well!) will result in a less dry banana bread
Greasing the bread pans will help the bread remove from the pans much easier
Use a knife or toothpick to ensure the middle of the bread is cooked throughly before removing from oven
Make sure to let the bread cool 10-15 minutes before removing the bread from the bread pans
You May Also Like
Pin For Later!