Laundry Room Refresh Part 1
This post contains affiliate links. I may get a commission if you buy through my links at no extra cost to you. You can see my full disclaimer for more details.  
The laundry room. It may be the most dreaded space in someone's home. It is where the piles of dirty laundry go and wait for someone to come and clean them. And there is nothing better than a little budget-friendly laundry room refresh! All supplies used in this painting refresh (except for the stencil) I already had on hand. The perks of keeping the extra paint around! 😂
Laundry Room Before
The laundry has always been functional since shortly after we have moved into our home. The cabinets were placed mainly because we had no storage in the house when we moved in.
A little backstory on the cabinets. We found these metal cabinets at our local restore (from a local college) and purchased almost 40 cabinets of different sizes – uppers and lowers – for only $200. Our original plan was too sand them down and use for our kitchen. Although I am very glad that plan did not end up working out! We have used the cabinets in our laundry room, basement landing, and basement. With plans to use most of them as storage in our garage in the future.
Anyway, the cabinets were not pretty, and unfortunately stayed that for over a year and a half. But a little cleaning and paint and they look great!
Supplies
Fusion Mineral Paint (Bayberry) – Cabinet Color
Latex Wall Paint (Clark & Kensington Garden Stone) – Stencil Color
Latex Wall Pain (Clark & Kensington Linen) – Wall Color
Fusion Mineral Paint (Coal Black) – Handles
Painter's Tape
Paper Towel
Baby Wipes
Laundry Room Plan
This laundry room plan includes everything that we already had on hand.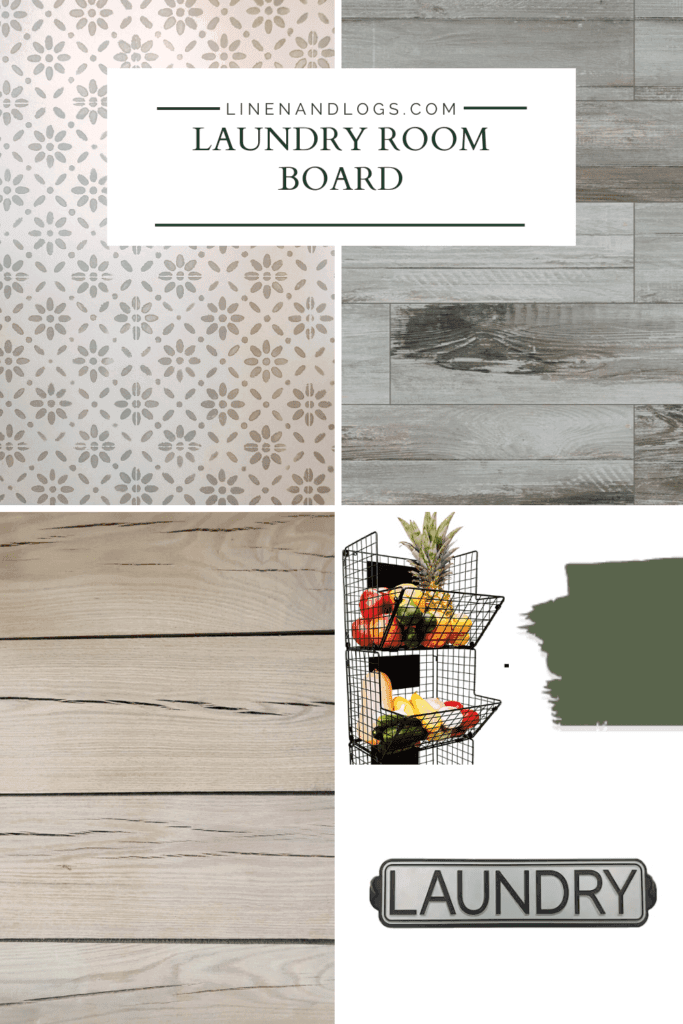 Laundry Room Prep
Clean out the area
Remove handles on cabinets (Store in zipped plastic bag to avoid losing pieces)
Clean the cabinets with liquid TSP diluted with water (read instructions on bottle)
Clean walls – repaint or touch up paint if needed
Cover the areas that you don't want to get paint on
Tape off areas that you don't wish to get paint on
Painting Cabinets
A mini foam paint roller was used for this project. When used in long, even rolls, it is very smooth. ( I wish I would have rolled the paint on the basement landing cabinets because it came out looking so much nicer!)
I used a paintbrush around the drawer handles on the sink cabinet and in the hard to reach corners that the roller could not reach.
It took two coats of paint to cover the cabinets, and was finished in one afternoon.
Stenciling the Wall
This part of the project had me a little nervous! I had never stenciled before, so I decided to practice on a large piece of cardboard first. I am so glad I did this, as it gave me a feel for the how much paint to use. After doing this, I choose to start with the big wall with better access.
If you have never stenciled before, practice painting the stencil on a scrap piece of cardboard or paper. This can be very helpful!!
Stenciling Process
Get your supplies set up
Figure out which is the top of the stencil – and keep consistent the entire project
Line up the stencil at your starting point and make sure it is level on both sides. (this is very important as it will affect the rest of your space!)
Use a level on the stencil to ensure it is straight. Use painter's tape to tape stencil onto wall
When rolling paint on roller, roll the excess paint onto a paper towel
Paint Stencil – lightly to avoid bleeding paint
Remove stencil
Clean stencil with baby wipe. Repeat until painting is complete
Painting Tip! Use a plastic bag to keep roller good during breaks
Stenciling is a lot more tedious that I expected! I think I would do it again, because I love how it turned out, but time wise it took much longer than I expected it too. And it is very messy! I used the large piece of cardboard as a space to clean off the stencil and I am glad I had that to use.
Overall, I am very happy with how the stenciling turned out. To an expert, there are probably plenty of spots that are not painted correctly, or the stencil is off, or etc. But, I loved how it turned out and it adds so much to this small laundry room space.
Painting Odds and Ends
The cabinet handles and faux baseboard on the sink cabinet was touched up with Coal Black. And then the cabinet handles were finished with a coat of polycrylic allowed them to dry, and put them back on the cabinets!
Laundry Room After
Keep an eye out for the rest of the Laundry Room Refresh! Decor, shelving, rugs, and organizing! Stay tuned for Part 2!
SHOP THE POST