Dark Green Rustic Modern Kitchen Island
I am excited to finally be able to share our new dark green kitchen island! I have been wanting a change in our kitchen for a while. Upgrading our kitchen island was the perfect way to create a rustic modern kitchen style that I had been looking for.
As an Amazon Associate, I earn from qualifying purchases. You can see my full disclaimer for more details. 
Modern Rustic Kitchen Design
Our previous kitchen island was always a temporary solution. The cabinet was the lower portion of a hutch with a wood butcher block countertop attached. A few years ago, I painted the cabinet green and stenciled the back portion of it for a farmhouse kitchen look.
You can see the blog post on the STENCILED KITCHEN ISLAND HERE.
As I said, the cabinet was always a temporary solution. I really wanted drawers for storage and a home for the garbage can. The original plan was that we were going to build our kitchen island, but the opportunity came up that my brother Justin started a cabinet-making side business.
You can check his business out HERE – JWN WOODWORKING.
So I realize that I may have the family advantage, but one thing I loved about working with Justin, he communicated about everything. He sent email updates about building the kitchen island and made sure to have the details that I wanted.
Kitchen Island Design
A simple frame design on the back portion for the island added a modern element to our rustic kitchen.
I also choose to match the front of the cabinets with our existing cabinets in the kitchen.
How to Choose a Paint Color for the Kitchen Island
Because I could not decided on a paint color, I painted the cabinet myself at home. This also included the hardest part of the project – choosing a paint color!
A little tip on choosing colors – using PINTEREST! Pinterest is a great way to get inspiration and find out what colors you may actually like.
I knew I wanted to go with a dark green. And finally decided on a Benjamin Moore Color – Vintage Vogue 462. I went to our local Ace Hardware and purchased the paint in a satin finish. You can also get samples of paint for inexpensive, but I choose not to do this for this project. To be honest, I rarely get samples of paint. I prefer to keep my projects as budget-friendly as possible. And purchasing samples can get really spendy very quickly!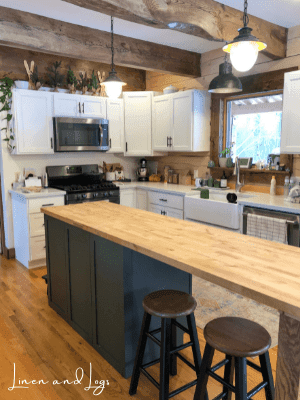 Using a good paintbrush and small foam roller is how I primed and painted the kitchen island. I did multiple coats of paint and love how it came out. Sadly, I did not take any pictures of this portion of the project. The painting was mainly done during nap time and I wanted to get it done as quickly as possible.
I am very happy with how the dark green kitchen island. It added a modern element in our white kitchen cabinets rustic kitchen.
I would love if you followed me over on PINTEREST for more inspiration!
SHOP THE POST

You May Be Interested In
Dark Green Kitchen Island