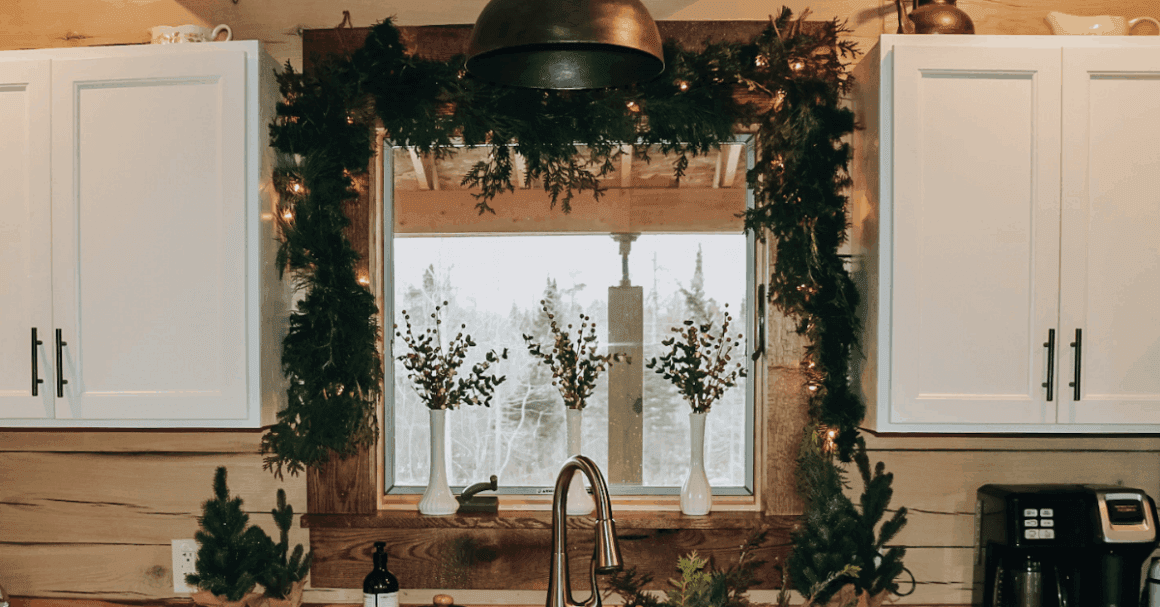 How to Make a Fresh Christmas Evergreen Garland
How to Make a Fresh Garland in 5 Easy Steps
A fresh evergreen Christmas garland is one of the easiest ways (In my opinion!!) to bring a fun Christmas cheer into your home on a budget. I love how the garland smells, and since garlands can be pretty spendy, it is quite satisfying to get a great looking garland for next to nothing!
This post contains affiliate links, which means I may get a commission at no extra cost to you. See my full disclaimer here.
Cut Evergreen Branches
First step is to go and cut the branches. The types of evergreen branches that seem to work the best are the soft pine and cedar branches. You can also add any faux stems to your garland to add a little extra at the end.
I have used a small pair of gardening cutters and a branch cutter to get my branches when making these garlands.
I also like to cut as much of the branch as I can, since I find it easier to attach longer pieces to my faux garland rather than a bunch of small pieces.
Along with cutting the branches, it is important to soak the branches prior to making your garland. This allows the freshly cut evergreen branches to soak up as much moisture as possible before hanging.
You can soak your branches in the laundry sink, a bucket of water, or even your bathtub. I choose to use my laundry sink because I don't use it everyday.
Prepare Faux Garland
Depending on the type of faux garland that is being used, fluffing out the faux branches can make it easier to attach the evergreen branches.
I have used multiple types of garlands to make these evergreen garlands, including a pre-lit faux pine garland, non-lit faux pine garland (cheapest option!), and even a eucalyptus faux garland from the Hearth and Hand Collection!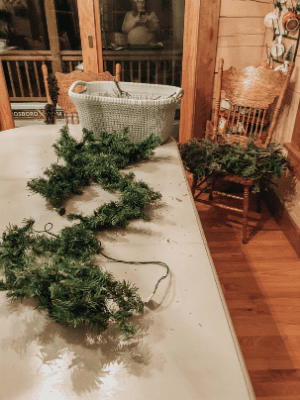 Each type of garland gives a different look to the garland, which makes it so unique!
Attach Cut Branches
To attach the pine or cedar branches, I use floral wire. This allows the branches to be attached tightly, and reduces the risk of falling apart.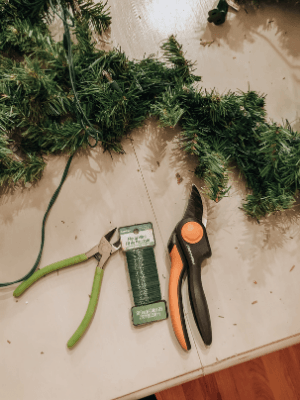 At the end of the season, I go back through the garland and cut the floral wire with wire cutters to remove the evergreen branches. This step allows me to save the faux garland for the next year!
Hang Garland
There are many different ways to hang a Christmas evergreen garland. But making sure that it is sturdy and won't fall down is the main goal!
When hanging the garland above the kitchen window, I nailed nails into the top of the trim. Mainly because command hooks don't hold very well on the oak trim, and because I knew I would be putting garland there for many years to come.
To attach the garland, I cut a length of twine and tied it around the garland and hung it on the nail. This allowed me to move the garland higher or lower to make it even when hanging on the window.
Add Extra Elements
This step is totally extra! You can add any other picks, stems, berries, or even layer another garland. Just to note, all of these items are usually easier to do once the garland is already hung up, but can also be done before hanging.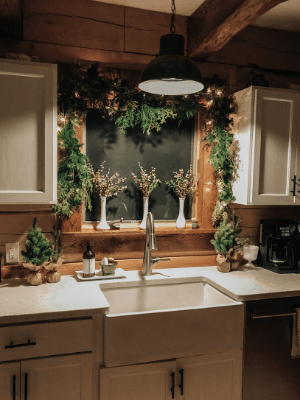 Frequently Asked Questions
How long does the garland last?

My garlands have lasted a couple of months – just making sure that they don't get bumped or touched very often. As this can make them crumble. I have also spritzed the garlands with water to keep them fresh looking.

Do I have to soak the branches?

YES!! This will help keep the fresh evergreen branches as fresh as possible! Soak for a minimum of 24 hours.

Do I have to use a faux garland?

No, of course not! But, I personally like to as it gives me a guide and something for the branches to attach to. I personally think it makes the garland sturdier and easier to hang.
Shop the Post

Related Articles
How to Make a Fresh Christmas Evergreen Garland