One Room Challenge Master Bedroom Refresh
We are in the second week of the One Room Challenge! This is an 8-week challenge, and so today I am going to re-share my inspiration board and a mini round-up of what I have in mind for the master bedroom refresh.
Before I start writing more, if you have no idea what I am talking about, you can read One Room Challenge Master Bedroom Week 1. The Spring 2020 Challenge has been delayed for a month, and extended for a total of 8 weeks, so this week's post is going to be a round up of items that I have been considering for the Master Bedroom.
As a quick reminder, here is a before picture of the Master Bedroom. The wall behind the bed has been painted the dark green that I have on the inspiration board. And the color adds so much character to the room!
This post contains affiliate links. I may get a commission if you buy through my links at no extra cost to you. You can see my full disclaimer for more details.  
Neutral Farmhouse Bedding
With a bold accent wall, a neutral bedding will allow the wall to have the focus. Ideally a neutral pattern would be perfect for the space in the master bedroom – so I will be keeping my eyes peeled for the perfect one!

Throw Pillows
Throw pillows add such a cozy factor to the bedroom! I have a few fun ones coming for this master bedroom refresh and am looking forward to amping up the coziness factor.

Throw Blankets
Throw blankets are a must in our household. I am cold nearly all the time, and what else would the kids play with and drag around the house? So I am hoping to find a few new fresh ones for the master bedroom space.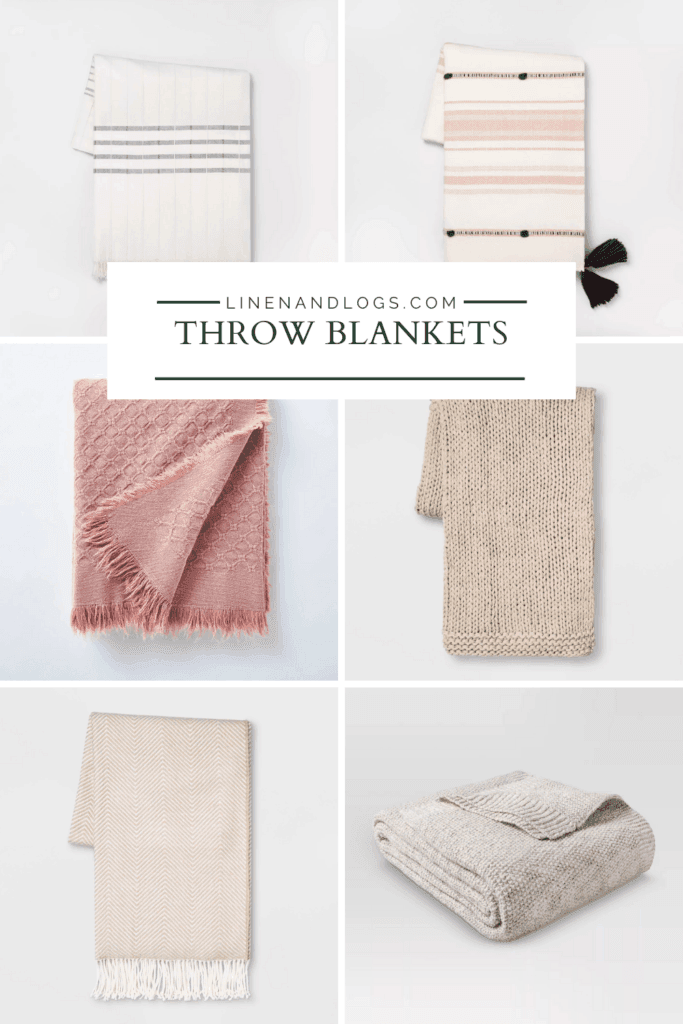 Master Bedroom Rugs
We have carpet in our bedrooms upstairs, but no one ever said that we can't put a cozy rug on top of the carpet! We actually have one already in mind, but here are few cozy neutral rugs from Rugs USA that would work perfect in a bedroom or living space of your choice.

And that is a mini round up of some styles I have been loving for the master bedroom refresh for the One Room Challenge! I hope you join us next week as we begin with some fun, budget friendly DIY's that will help spruce up the space!
And incase you missed any One Room Challenge Posts:
WEEK ONE (Before and Inspiration)