It is Week Four for the One Room Challenge! I honestly cannot believe we are half way through! As ideas and plans are all coming together, I have realized that my vision and what is actually happening keeps changing! I don't necessarily like matchy-matchy but I do like to things to look like they belong together! And so the painted nightstands were the only option to keep this refresh as budget friendly as possible!
In line with keeping this One Room Challenge Refresh as budget friendly as possible, the mismatched nightstands are staying. And ended up getting a quick facelift with some paint.
After painting the wall a dark green color (Blossom Silhouette by Clark & Kensington) and seeing what the headboard looked like against the wall, the next decision was to decide what color to paint the nightstands. The decision was to be made between light and dark, creamy white or black. After deliberating for many days, and looking to see what paint colors were on the basement shelf, a decision was made to mix up some paint. A combination of Coal Black + Bayberry + Sacred Sage + a touch of Casement is the combination that was born for the painted nightstands.
This post contains affiliate links. I may get a commission if you buy through my links at no extra cost to you. You can see my full disclaimer for more details.
Supplies Used:
How to Paint Nightstands:
Scuff the nightstands lightly with sandpaper grit of 120
Remove any hardware from tables
Apply paint using paintbrush and Allow to dry
Apply second coat of paint and allow paint to dry
Install new or same hardware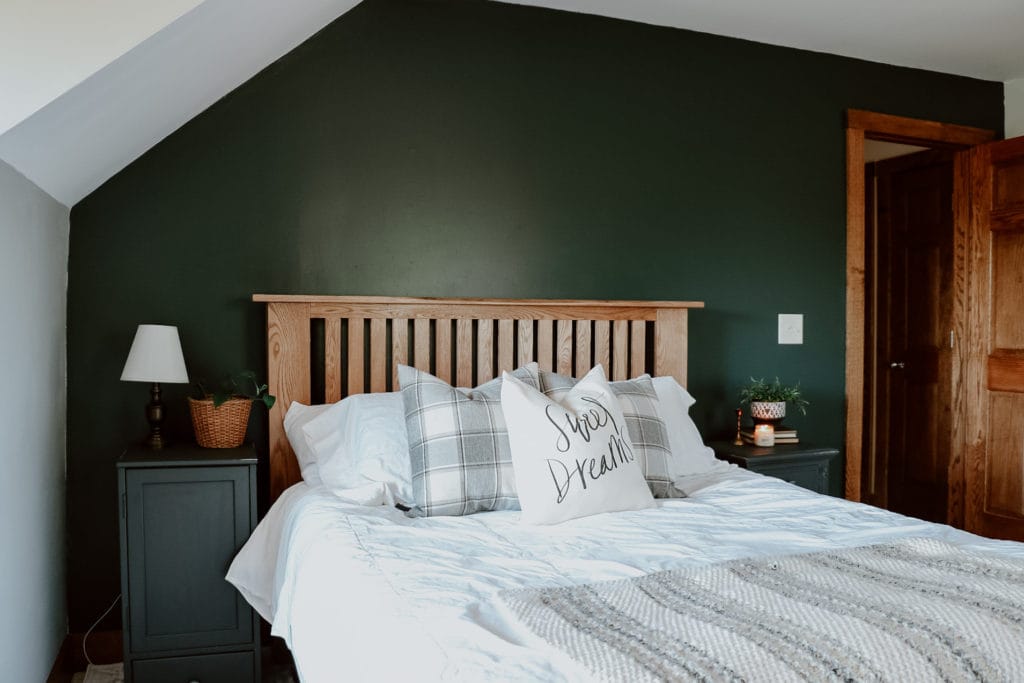 All supplies that used for painting these nightstands was already on hand, causing this project to cost $0! This was one of those projects that I keep wondering why I have not painted these a matching color a long time ago! By using left over paint already on hand, and mixing I was able to use up some almost empty containers (making more room for new paint colors on the shelf). Along with coming up with a custom color – although I now will have to try to recreate if I ever want to use again 😂
Budget Friendly Nightstands
Are you looking for a budget friendly option for a nightstand? Here are a few options.

Have you missed any of the One Room Challenge Master Bedroom Posts? Check out these ones.
Week One (Before and Inspiration), Week Two (Mood Board and Round Up), and Week Three (DIY Wood Headboard).