DIY Hoop Christmas Wreath
Today I am going to show you How to Make a DIY Hoop Christmas Wreath.
This Christmas Season gives me all of the feelings to create some new Simple Christmas Decor. A Hoop Christmas Wreath seemed to be the perfect way to add a little simplicity to the Christmas Cheer around the house.
To make this wreath, I am going to use the supplies that I am surrounded with. And that is live tree branches. One of the many plus sides to living in Northern MI! Lots and lots of selection of pine and cedar trees.
I am going to use an embroidery hoop to make this Christmas Wreath. I am excited to see how this DIY wreath comes together. I love being able to make DIY Christmas decor because you can change up your home decor every year if you so choose to.
As an Amazon Associate, I earn from qualifying purchases. You can see my full disclaimer for more details. 
Supplies for Embroidery Hoop Christmas Wreath
Floral Wire
Greenery Branches – I am using real branches, but you can use faux branches also
Red Bows
Making a Hoop Holiday Wreath
The first thing I did was to cut a few branches from the desired trees. Because there are so many directions to take, I choose to go with Cedar branches because they last longer and stay greener than pine branches.
After cutting, I soaked the branches for the DIY wreath in water for about a day. I wanted to make sure that the branches soaked up as much as they could before using them.
After the soaking, I cut the branches to the desired length.
Using the hot glue I started to fasten the cut branches to the embroidery hoop. I layered the branches one at a time until I got the look I was going for.
Once I got my desired fullness, I attached the bow using the same hot glue.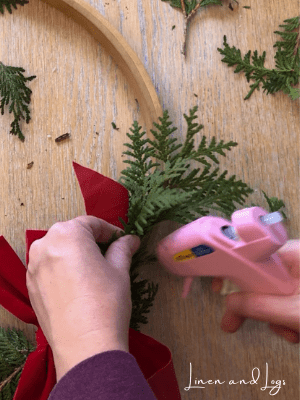 I love how simple yet festive this hoop Christmas wreath turned out to be.
And if I choose to leave it up after the holidays, I can refresh the branches and use a different color ribbon to make it a Winter Wreath!
Let me know what you think in the comments below!
SHOP THE POST

You May Also Like
How to Make Wood Christmas Trees
How to Make a DIY Hoop Christmas Wreath