Our Master Bedroom Reveal
It is Reveal Week for the One Room Challenge!! You can see the reveals for the 20 Featured Designers here. You can see the reveals for the guest participants (like mine) here. And today's post is our Master Bedroom Reveal!
And while I have not been able to do everything that I wanted to do with our Master Bedroom, it is a huge improvement from what it was before. To see the original plan, you can check out this blog post here.
As an Amazon Associate, I earn from qualifying purchases. You can see my full disclaimer for more details. 
Master Bedroom Paint Updates
But, let's remember how this space looked before! Because a boring before picture is always fun to see!
And after a little paint and a lot of love!
Where to Find Decor For Master Bedroom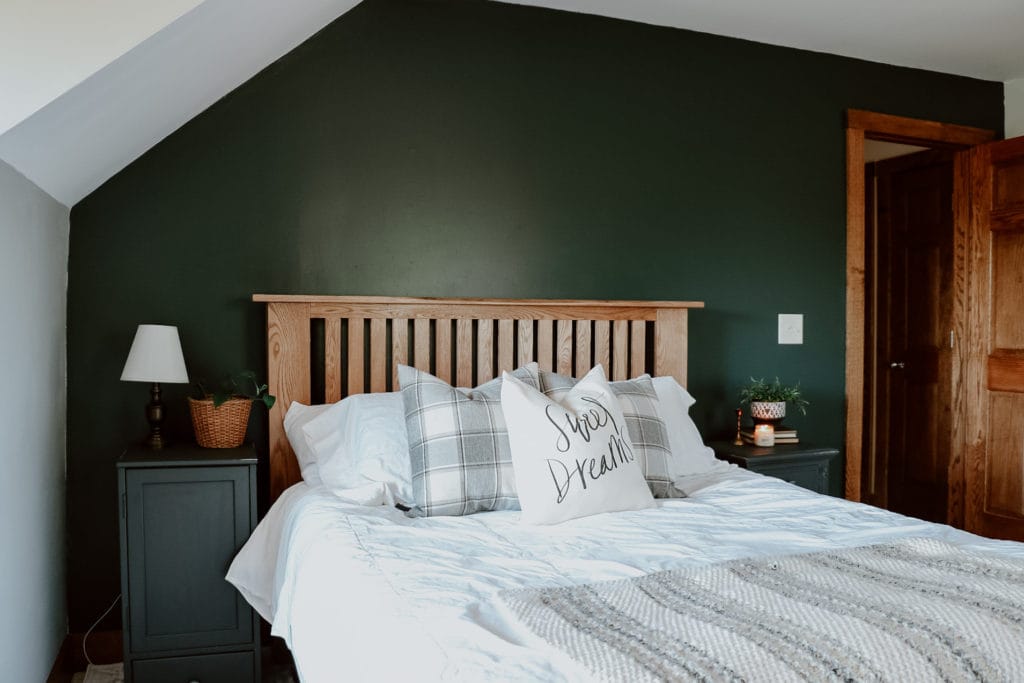 I also did a little refresh for the office space which I am excited to be able to use on a more regular basis.
Where to Find Decor for Office Space
Brass Candlesticks – Thrifted
Black and White Planter – TJ Maxx
Vintage Books – Thrifted
Blue Planter – Homegoods
Painting – DIY
Shelf – DIY
Desk – Thrifted
Chair – Thrifted
Candle – Kanda Candles
There are so many things that I would love to finish up with our Master Bedroom Refresh, including art work above the bed, and hooks and more artwork in the room. But, I am being patient and between DIY and garage sales, am waiting for the perfect piece to add to the room.
As much as I would have loved to have every part of the room completed for the One Room Challenge, that is just not my style! I am the type of person that wants to wait for the perfect piece instead of just trying to get the space completed.
So keep a look out for more on our bedroom! While the space is not quite finished, I am looking forward to finding the perfect pieces and adding more!
You May Be Interested In
Week One (Before and Inspiration)
Week Two (Decor Roundups)
Week Three (DIY Wood Headboard)
Week Four (Painted Nightstands)
Week Five/Six (Mid-Century Dressers)
Week Seven (Ideas for Master Bedroom Decor).