How to Reupholster RV Couch Using Hot Glue
When we decided to remodel our Class C Motorhome, I had no idea what I was going to do with the RV Couch. I knew that I wanted to recover the RV couch, but I had no idea where to start!
After scouring Pinterest (and not finding very many tutorials), I decided to try recovering the camper sofa myself and doing what I do best, winging it.
This post contains affiliate links, which means I may get a commission at no extra cost to you. See my full disclaimer here.
Choosing Fabric for Recovering RV Couch
The first thing you want to do before buying fabric for this project is to measure the length of your RV Sofa. After measuring the length, I added extra length for both ends and then doubled the yardage needed (for the back of the couch and the seat portion).
It is always better to have extra fabric rather than not enough.
When I was looking for fabric, I was experiencing a little bit of sticker shock and ended up finding some curtains at Homegoods that I used for the fabric. The curtains that I found, ended up costing me $20 for two panels and were 84 inches in length so they worked perfectly for this project.
I do want to note, that for our second motorhome reno, I ended up purchasing upholstery fabric from Fabric.com for better quality fabric. I purchased 6 yards for our RV couch in that reno. (Just make sure to measure your own couch!)
Preparing the Fabric for Reupholstering your RV Sofa
This step may not be necessary if your RV Sofa is not attached to the crease. Because our RV couch is in a motorhome, the cushions are attached with holes for the seatbelts. Because of this, I sewed the two lengths of fabric together before attaching them to the couch frame.
After sewing the two pieces together, I cut a hole in the middle of the fabric to allow the seatbelts to come through the couch during travel.
Using Hot Glue to Reupholster RV Couch
Using hot glue was not my original plan for attaching the fabric to the existing couch. I assumed that the frame was wood, so I could staple the fabric. But, I had to reevaluate after realizing that the staples were just breaking because it was in fact a metal frame! Talk about a surprise!
So I quickly pivoted and decided to go with hot glue. I started using mini glue sticks but went through them so quickly, so I switched to using a heavy-duty glue gun and heavy-duty glue sticks which overall held better and I didn't have to put a new stick in all the time.
I started gluing the fabric down in the crease of the couch first, making sure to use a lot of glue since I did not want this to separate in the future.
After the crease, I pulled the fabric tight and began to glue the underside of the couch. I continued this all the way around the couch. I also made sure that I pulled the fabric taut before gluing, frequently checking to make sure there were not any weird creases or folds.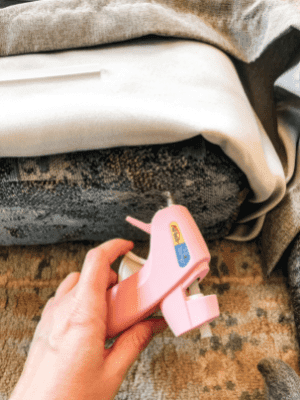 After all the fabric has been glued down (and dried), you can then cut any excess off the fabric. I highly recommend doing this afterward, because there was a spot where I cut the fabric too short (so the edge can be seen when the couch was in place) and there was no way to fix it.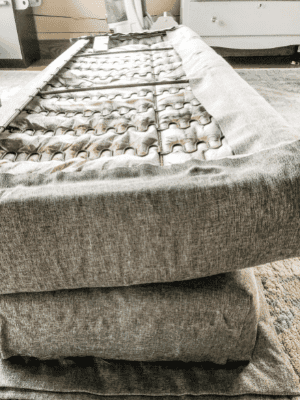 I practiced the fold on the corners before hot gluing to make sure they looked good. Once I got them the way I liked, I then hot glued them into place.
Protecting the RV Couch Fabric
Because I decided to use a curtain fabric, I choose to spray with Scotchgard Fabric Water Shield. I did two coats (in a well-ventilated area!) to help protect the fabric. The Scotchgard will need to be touched up in the future, but I was happy to add that little extra protection.
I do want to note that while curtain fabric worked fine, it did start to unravel and shed at the edges where I cut. I think in the future I will use upholstery fabric just because it better quality.
Installing RV Sofa
After recovering the RV sofa, we were able to reinstall the couch in the RV without any mishaps. And because this portion was done by my husband, I actually have no idea how to take out or put it back in an RV sofa.
I will definitely use a hot glue method to recover an RV couch in the future! It was a very easy project to do, and the hardest part was putting the couch back in the motorhome!
Sources for How to Recover an RV Couch
Related Articles
How to Reupholster RV Couch