Add Character to Your Cabinets
Today I want to share how add some texture to your cabinet doors.
I want to share how I took the broken glass cabinet fronts in the RV and gave them a modern, boho update that adds character to your cabinets!
When we purchased the Class C Motorhome, one of the glass fronts on the cabinets was already cracked. We tried breaking it out, but that was not quite working. So when I painted the cabinets, I decided to paint the glass fronts and started brainstorming what I was going to do with them from there.
I loved the look of the fluted door fronts but wanted to make this project as budget-friendly as possible. I also saw some tutorials for using dowels but knew that I wanted something that went a little quicker.
This is the joy of having a baby while doing DIY!
As an Amazon Associate, I earn from qualifying purchases. You can see my full disclaimer for more details. 
How to Update Kitchen Cabinets on a Budget
While there were so many directions I could have taken to add character to the cabinet fronts, I ended up purchasing an inexpensive BAMBOO TABLE RUNNER.
Other things I looked at for the cabinets included fabric, curtains, placemats, table runners, and more. You can use any type of coverage that you find and like!
Here are a few more options that I found like the above bamboo table runner

Supplies Used to Add Character to Your Cabinets
Scissors
Tape
Utility Knife
Measuring Tape or Ruler
Step One – Measuring the Cabinet Fronts
I should actually start step one with painting. And priming. I primed and painted the cabinets – and you can see the BLOG POST HERE.
But the real first step is measuring the cabinet fronts. I want the pieces of the BAMBOO TABLE RUNNER to fit perfectly in the space.
Step Two – Preparing the Table Runner
With this particular table runner, I cut with a utility knife. I then had to superglue the threads so they don't unravel on the pieces of bamboo sticks.
After the superglue dries, I make sure the piece fits into place.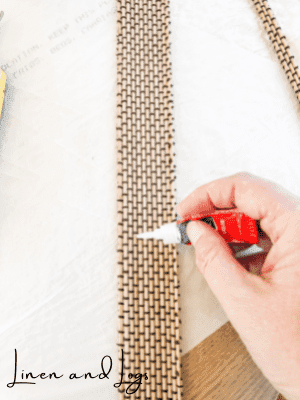 Step Three – Adding the Character to Your Cabinets
After doing a dry fit, I then added wood glue to the cabinet fronts and place the piece of the table runner.
I also did this to the fabric pieces on the cabinets. This really added more texture to the space!
I hope this inspires you to add a little character to your kitchen!
You May Also Like
Add Texture to Cabinet Doors