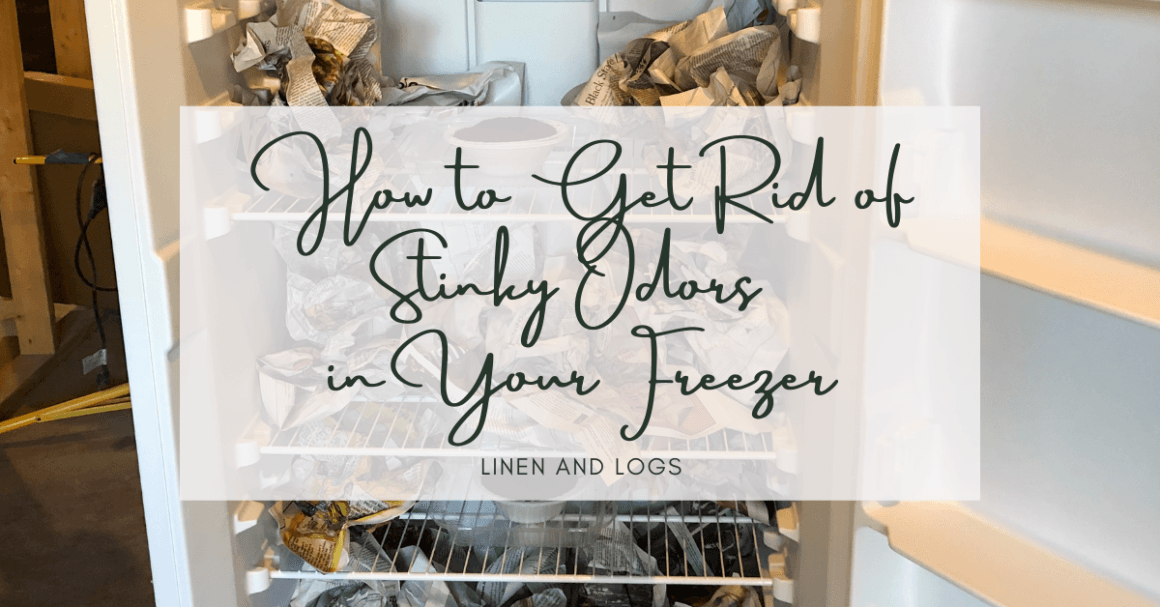 How to Get Rid of Odors in Your Freezer
Today I am going to share how to get rid of the rotton meat smell in your freezer.
If you are reading this post because you need to know how to get rid of odors in your freezer, I just want to say – I have been there, I know the feeling you are having, and I hope this blog post can help you!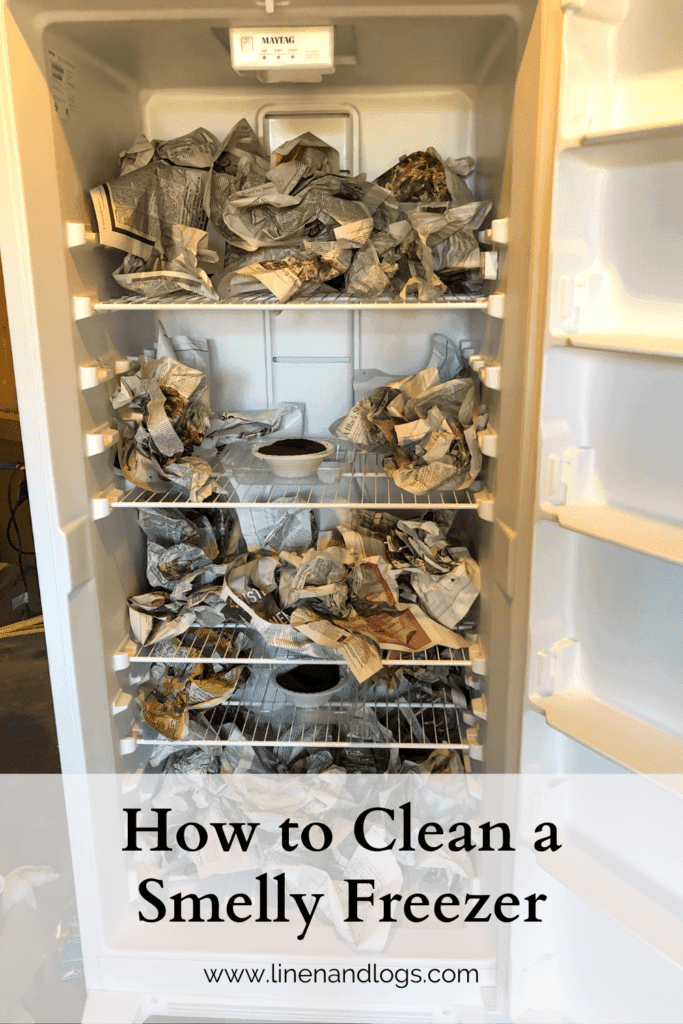 As an Amazon Associate, I earn from qualifying purchases. You can see my full disclaimer for more details. 
Why we Needed to Clean our Freezer
First, I need to share my story (Hello! This is a blog 😉)
We purchased a brand new freezer this fall in preparation for pork that we were going to get after butchering our pigs. We also have a chest freezer, but we needed a larger freezer and decided to go with an upright freezer for better organization.
A few months ago, we purchased a large amount of beef and needed to move it into the new freezer.
I moved all the meat from the chest freezer to our new upright freezer, and unbeknownst to me, unplugged the chest freezer (and the upright freezer full of meat 😩). I am not going to lie, just writing this is giving me a pit in my stomach all over again!
Well, after a few weeks (we were gone, busy, etc.) my husband went down to the freezer to pull out some meat and came upstairs to tell me that the meat was all bad because the freezer had been unplugged.
My. Heart. Dropped.
I couldn't even make myself cry because I was felt so sick about it!
Okay, enough dramatics (yes it was my fault, I know that already!)
Removing the Meat from Freezer

That evening we removed all of the meat from the freezer (and discarded it).
I am not going to go into details, but we live in the woods, and lots of crows, a few eagles, and vultures had a very good meal.

Cleaning and Disinfecting a Smelly Freezer
One thing that really helped was being able to pull the freezer outside in our basement walkout. We used the hose and were able to spray the freezer out. To disinfect the freezer, I used hot water + Bleach (DO NOT MIX ANYTHING WITH BLEACH!) and scrubbed the inside of the freezer out.
I also removed all of the shelves and freezer door racks and disinfected those too.
After bringing it back inside, over the next week, I tried a few different things to get the smell out of the freezer. Baking Soda + Vinegar, Charcoal, more baking soda, etc. None of these methods seemed to work very well.
I do want to note – that I did not plug the freezer back in, until AFTER the smell was gone. This part is very crucial.
Using Newspaper and Coffee to Absorbe Freezer Odors
After a few days of no improvement, I decided to pull apart all of the pieces of the freezer (the back and underneath) and scrubbed those out – there were a few spots that were missed so I am glad that I ended up doing this step.
From there, I purchased a newspaper (the biggest paper I could find at the local grocery store!) and took apart all of the pages and crumpled them up, and filled each shelf. I also put coffee grounds in disposable bowls and placed them on the shelves.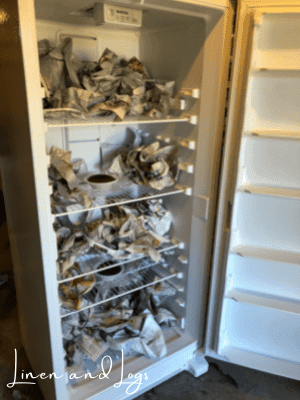 And then, I shut the door. I left the door shut for about a week and a half (mainly because I didn't want to be disappointed!). And when I reopened it, the smell was just about gone!
I was so relieved! Reminder – this was our brand new freezer, that had hardly been used yet!
I removed the used paper and coffee grounds and threw them away.
I wiped out the freezer one more time using disinfecting wipes. And then plugged the freezer back in, put some more crumpled newspaper in with a couple of fresh coffee ground bowls and let it be.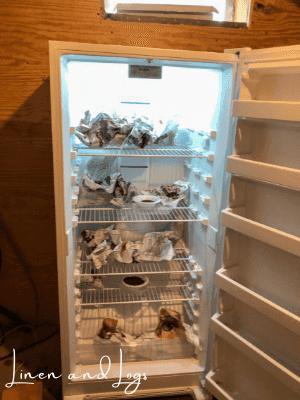 A few days later, we were able to remove the paper and coffee grounds and fill it up with our freshly butchered pork!
How to Avoid a Smelly Freezer
Because our freezer does not have a built-in alarm, we purchased THIS ALARM SYSTEM to install in the freezer so we don't EVER. HAVE. THIS. HAPPEN. AGAIN!!!
I hung our thermometer on the cabinet on the steps going down the basement – so it will be easy to hear if the alarm goes off. This particular thermometer has a function where you can set your min and max temps.
You can also check out the blog post on how I updated this small space here!
So, best of luck to you! I hope these steps help you in removing the rotting meat smell from your freezer!
Shop the Post

You Might Also Like
Pin for Later
Get Rid of Odors in Your Freezer